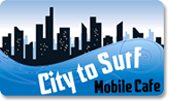 Where We Will Be
Check our bookings page to find out where City To Surf Mobile Cafe will be next.
Get In Touch
Our contact page has all the information you need to make a booking or contact City To Surf Mobile Cafe.
Testimonials
It was an absolute pleasure dealing with City to Surf Mobile Café for our Karingal Karnivale. Not only was their coffee fantastic, their professionalism and friendly attitude was a great contribution to our event. I would highly recommend the services of City to Surf Mobile Café because it's so great to experience fabulous customer service, not only with myself but with all our patrons.
Stephanie Woolnough | Events and Projects Coordinator
BacLinks / Karinga
More people are too busy enjoying our wonderful coffee and slushees right now, but as soon as they stop we'll ask them what they think and let you know.