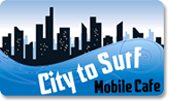 Where We Will Be
Check our bookings page to find out where City To Surf Mobile Cafe will be next.
Get In Touch
Our contact page has all the information you need to make a booking or contact City To Surf Mobile Cafe.
Coffee Cart
City to Surf Mobile Cafe' has now branched out to offer our fully mobile coffee cart which is fully equipped to serve fresh espresso coffee, de caffeinated, chai, hot chocolate, tea, skim, full cream and soy milk..... our fully qualified barista is there to meet your needs.
Cup sizes include 8oz $4.00 and 12oz $5.00 and 16oz $6.00. We are able to supply fresh cakes, muffins and slices – baked fresh daily locally in Geelong.
This service is a very versatile which can be used at a theatre complexes, exhibitions, museums, sports complex, corporate events, retirement homes, function centres, community halls and centres.
Whenever you need us we can accommodate to meet all your requirements as our mobile coffee cart can be used either indoor or outdoor.
Bookings essential so as not to disappoint.