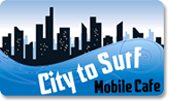 Where We Will Be
Check our bookings page to find out where City To Surf Mobile Cafe will be next.
Get In Touch
Our contact page has all the information you need to make a booking or contact City To Surf Mobile Cafe.
Our Coffee
We are proud to serve Alpha 100% Arabica Coffee
Alpha blend is like its namesake - strong, bold and dashing.
Alpha is our most popular and sought after blend. This has won awards at the CSR 2010 Golden Bean Competition as both an espresso and milk based coffee.
Alpha blend only the highest grown, top quality and most flavoursome beans from Central and South America, combining them to produce a blend with both punch and style.
Optimised and tweaked for the mobile cafe industry, considerations into humidity and temperature were utilised when creating this boutique blend.
Alpha has clean acidity with a sweet, bold chocolate aftertaste. With a strong aroma, Alpha leaves a full flavour for our customers.
Our Drinks
All our coffees are made by our fully qualified barista, we have a selection of milk re: skim, full cream and soy.
Espresso Short - $2.50
Espresso Long
Cappuccino
Cafe' Latte'
Macchiato
Mocha
Chai
Tea
Hot Chocolate
Large - $6.00
Med - $5.00
Small - $4.00
We don't charge for extras like vanilla, caramel, hazelnut flavouring, double shots or soy.